The Best First Father's Day Gifts That Say "Welcome To Fatherhood"
by Jenn Sinrich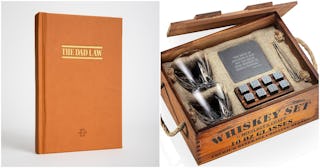 The Dad Shop/Amazon
The best Father's Day gifts for new dads celebrate his promotion from man to daddy, whether it's a year after he earned the title of "dad," or just shy of a few weeks. If it's his very first Father's Day, it's an especially monumental occasion (second to the day his child was born, of course), and since it's a major milestone, he deserves a meaningful gift that makes him feel as special as he is.
If he's like most men, though, he's probably tough to shop for, which makes it extra hard to predict what he's hoping for this Father's Day. But luckily — if you know where to look — there are plenty of first Father's Day gifts that will honor his post as papa (and many can even help Mama when it comes to this whole parenting thing). So, scroll through this list of first and new Father's Day gift ideas for inspiration. We guarantee there's something he'll truly love!
Looking for a present for a pop-to-be? Check out our picks for the best Father's Day gifts for dads who are expecting!
Best First Father's Day Gifts
Best Father's Day Gifts For New Dads