The 30 Best Gifts for 13-Year-Old Girls (And 13-Going-on-30 Girls Too)
We only recommend products we love and that we think you will, too. We may receive a portion of sales from products purchased from this article, which was written by our Commerce team.
by Megan McCarty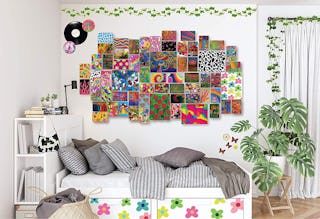 Collage Art Kit By Saltwater Blue
You couldn't pay us a million dollars to be 13-year-old girls again. The TikTok beauty trends to keep up with, the friendship politics, the never-ending homework, and not to mention all the social media pressures that our childhoods, at least mostly, escaped. No way. But, if you're shopping for the 13-year-old in your life, at least there are some next-level gifts to get that will bring them joy — and make you as the gift giver look pretty cool in the process. We've rounded up 30 of what we consider to be the best gifts for 13-year-old girls, and there's something for every type of teen out there.
Below you'll find items that encourage adventure, cultivate personal style, and help your budding artist flex her creative skills. From bucket hats (yes, they're back) to DIY bath fizzy kits, and everything in between, there's a gift that has your 13-year-old's name on it. If we were 13-year-old girls again (never again!) we'd want these gifts. Hell, we're much older than that and still want some of these gifts (looking at you succulent pots). Remember, there's no harm adding a few of these items to your cart just for you either.
For more gift inspo, check out our gift guides for 1-year-olds, 2-year-olds, 3-year-olds, 4-year-olds, 5-year-olds, 6-year-olds, 7-year-olds, 8 year olds, 9 year olds, 10 year olds, 11 year olds, and 12 year olds.
Best Gifts for a 13-Year-Old Girl
Best Birthday Gifts for a 13-Year-Old Girl
Best Christmas Gifts for a 13-Year-Old Girl