15+ Best Toys & Gifts For 2-Year Olds According To Experts
by Patricia Grisafi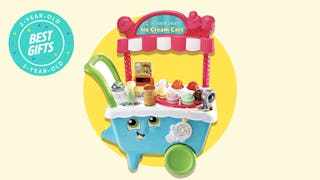 Figuring the best gifts for 2-year-old toddlers can be frustrating. What do they need that they don't already have? Their parents already have all the essential baby gear, as well as some favorite toys like a push car or an outdoor playset for burning off all that toddler energy. So how can you make sure the 2-year-old birthday gifts you're buying will enrich their lives and help support their continued need for creative learning?
For more gift inspo, check out our toys for 1-year-olds, 3-year-olds, 4-year-olds, 5-year-olds, 6-year-olds, 7-year-olds, 8-year-olds, 9-year-olds, 10-year-olds, 11-year-olds, and 12-year-olds.
What is the best gift for a 2-year-old?
Learning and educational toys are the answer— especially when you're thinking toddler gifts. The best educational toys for toddlers will stimulate their creativity and encourage them to mimic the behaviors of adults around them. Two-year-olds are "at the beginning stages of pretend play," says Monica J. Sutton, a New York and New Jersey-based Early Childhood and Special Education expert. "At this age, they are feeling confident with walking and moving around on their own. Now they're ready to really figure out their world."
Sutton recommends giving gifts that allow two-year-olds to play pretend. "Dolls, baby dolls, and accessories encourage children to mimic what they see adults do with babies and with them. They can hold the dolls, feed the dolls, etc." (Dolls are obviously not just for girls, by the way!) Sutton also suggests food-related toys that allow children to pretend they are serving a meal, which allows them to work on "social skills, fine motor skills, and language skills." She continues, "Kitchen toys like cups, plates, pitchers, and more allow children to mimic what they see at home during mealtime."
Finally, Sutton suggests interactive toys that allow children to nest, stack, open, close, or tuck inside one another. For instance, she says you can give children a ball or stuffed animal that they put in and take out of a box or lidded container (as long as it's safe to play with, of course). "All of this play will help children strengthen their fine motor skills," she says.
With all these recommendations in mind, here are some of the best educational toys and gifts for 2-year-olds. And if none of these are fun *enough*, you can always buy them (I mean, you) Disney+, which turns learning time into free time for you.
**Please note: All these picks are great for either boys or girls, but since some people like to search for gifts based on gender, we wanted to include some options!**
Best Gifts For 2-Year-Olds
Best Gifts For 2-year-Old Boys
Best Gifts For 2-Year-Old Girls
Best Christmas Gifts For 2-Year-Olds
Unique Gifts For 2-Year-Olds
Practical Gifts For 2-Year-Olds
For more products to keep your kids entertained, check out our toy age-appropriate toy picks here.