9 Best Hair Dryers With Genius Attachments That Cut Down On Time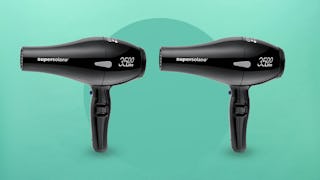 If there was ever a time to invest in a quality blow dryer, it's now when you're less likely to visit your hairstylist for a quick blow out due to, you know, the fact that we're in a f*cking pandemic. Even when your go-to salon does open up, you'll probably be limiting your appointments to the bare necessities: cut and color (unless you're DIYing your hair color at home).
Recently the Governor of Connecticut, Ned Lamont, actually recommended that salons that have reopened not use blow dryers for fear that it could spread the virus. While the jury is still out in the scientific community as to whether or not blow dryers up the spread ante, it's safe to say that the recommendation across the board is to blow your hair at home.
So, if you're going to be blow drying your own hair for the foreseeable future, you might as well invest in a quality hair dryer—one that not only cuts down on the time you spend styling your hair, but also helps protect the integrity and health of your hair, according to Irving Ramirez, hair stylist at LRN BEAUTY in New York City.
The amount of watts is also important. In fact, Annagjid "Kee" Taylor, celebrity hairstylist who's worked with the likes of Keke Palmer, Tiffany Haddish, Nafessa Williams and Tika Sumpter, suggests going with blow dryers that have at least 1500 watts. "This tells you how powerful the dryer is, so the higher the watts, the faster the dry," she says.
If you have thick, curly or frizzy hair, you'll want to look for a dryer that has ionic or tourmaline technology. This, Taylor explains, means that the dryer gives off negative ions, which helps to break up the water droplets on your hair for faster drying, which will make your hair less frizzy. If you have very fine hair, it's best to shop for dryers made with ceramic or porcelain technology. "These dryers distribute heat in a less harsh way, which is perfect for fine hair that can dehydrate easily," she says.
Ready to shop quality dryers? Here are the best ones in every price range— from the coveted Dyson hair dryer to the instagram favorite Revlon One Step Hair Dryer.
Best Hair Dryer for Under $100
Best Hair Dryer for Under $200
Best Hair Dryer for Under $300
Best Really High End Hair Dryer
Now that you have a blow dryer you can rely on, be sure to stock up on more of our favorite beauty must-haves!
This article was originally published on