These Are The Best Costumes Boys Can Wear For Halloween 2019
by Steph Osmanski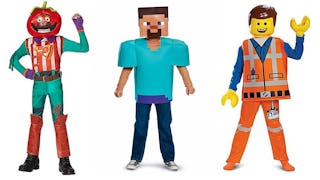 Is the little boy in your life getting excited for Halloween? As he should be! Get ahead of the game by checking out some of the top Halloween costumes for boys in 2019. We've rounded up some of the coolest and expected to be most popular costumes this year based on action-packed movies and TV shows like Aquaman, Spider-Man, PJ Masks, and video games like Fortnite and Minecraft. We guarantee they'll be something on this list your little one will love!
RELATED: 16 Adorable Baby Halloween Costumes You Can Buy Online
A COSTUME THAT'S TOTAL TRASH!
Hey, it's not a bad thing to be trash, right? If you saw Toy Story 4, Bonnie's newest and most favorite toy Forky loved being trash! And once your little one gets a look at this boy's Halloween costume, they'll love it, too. Plus, this costume is super comfortable with fuzzy red arms and hands mimicking Bonnie's pipe cleaner creations.
RELATED: This Is The Ultimate Halloween Idea Guide Of 2019
TRICK-OR-TREATING DO DO DO DO DO DO
It's everybody's favorite viral video turned into the Halloween costume of your little tyke's dreams! This yellow baby shark costume comes with a built-in musical sound chip that actually plays the original "Baby Shark" song (lucky you!). So just beware: If someone doesn't recognize your kid's costume, your little one can easily press the handy dandy button and remind everyone of that ear-splitting song they just got out of their heads.
TO-MATO, TOW-MATO HEAD
Food fight! This officially licensed TomatoHead costume from Fortnite will have your child looking extra saucy in his tomato-shaped face mask. The Halloween costume for boys comes with an official Pete's Pizza jumpsuit, the TomatoHead mask, a belt, gloves, and Pete's red signature shin guards.
BRICK BY BRICK
Brickowski is everyone's favorite construction worker from The Lego Movie. This costume comes with a mini-figure tunic, pants, and a mask. Of course, the look just wouldn't be complete without a pair of signature yellow LEGO hands! In short: Everything about this costume is — dare we say it? — awesome!
WITH GREAT POWER COMES GREAT RESPONSIBILITY
If your child is constantly trying to climb up their bedroom walls and often complains that their "Spidey-senses are tingling," then you've got a Grade-A Spider-Man fan on your hands. If that's the case, have the boy in your life dress up as the webbed superhero everybody loves with this brand new red-and-black look from the new movie Far Away From Home. They'll look like an authentic superhero come Halloween, and have a costume for playing pretend long after the holiday ends.
GOTTA RUN!
If your gamer loves Sonic the Hedgehog, then they'll love this one-piece jumpsuit featuring attached shoe covers and a Sonic headpiece. This costume will have your little one sprinting from house to house, Sonic style, collecting as much candy as possible.
DIGITAL DIGITAL GET-DOWN
Are you ready to enter the world of Minecraft? Your child can do so as Steve to show off just how much they love playing this video game. Bonus points to those who bring home the most candy from trick-or-treating!
FOR FANS OF 'HAPPIER'
Drop the beat, just like DJ Marshmello. His get-up might be super simple, but once your child puts on the iconic Marshmello mask, he'll look like a superstar and feel like dancing up to each door as he collects his candy.
#SAVEOUROCEANS
King of the ocean? Then this is the Halloween costume for your child. On October 31st, he'll join the heroes of the Justice League with this officially licensed 'Aquaman' costume complete with muscle chest jumpsuit. But note, if your little tyke really wants to look the part, you'll want to splurge for Aquaman's powerful trident and luscious beard, which are both sold separately.
MEOW!
It's a fact of nature — kids love PJ Masks! Have your little PJ fan dress up as Catboy in this all-blue catsuit. The set features a ferocious tail, light-blue detailing, and of course, Catboy's signature mask to guarantee they'll look the cartoonish part!
Although we only recommend picks we really love, we may earn a commission on purchases made through links from our site.
This article was originally published on