Kids And Toddler Rain Boots That Are So Adorable, You'll Wish They Had Them In Your Size
by Ana Connery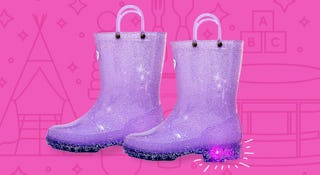 Rain or shine is playtime if you've got the right pair of kids rain boots. While the right boots won't make the rain go away, the best rain boots (and rain jacket and umbrella) will make it easier to deal with bad weather (and kids who want out of the house). "Easy on, easy off" should be the motto when it comes to finding the best rain boots for kids. Look for those with reinforced handles that make it easy for little hands to pull the boots on and off by themselves, freeing you for a few precious seconds on your way out in — or out — the door.
Even if your kiddo freaks about wearing a raincoat, they're going to love rocking these kids' rain boots. They light up! They have glitter! They look like a dinosaur! There won't be much convincing to get them to wear the boots, but getting them to not wear them may become the problem.
Our biggest tip? Get them used to taking them off by the front door to save yourself from wet, soggy prints all over the house.
Go ahead, let 'em hop through those puddles. Here's a peek at 17 of the best rain boots for kids that manage to be both adorable and durable.
Best Toddler Rain Boots
Best Kids Rain Boots
Girls Rain Boots
Boys Rain Boots
The next time you're on the hunt for great stuff for your little ones, check out our kid gear section for more of our favorite picks!