9 Best Loungewear Pieces That Are Comfy Enough For WFH And Cool Enough For Summer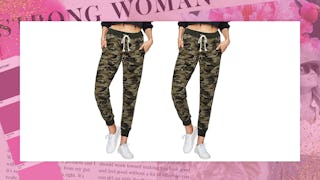 Loungewear has never really gotten the kind of glory it deserves (speaking as someone who used to change out of dressy work clothes directly into an old, ripped concert t-shirt and mismatched pajama bottoms on the daily). There's a lot to be said for comfort clothes that are not sloppy or frumpy looking, and with more people than ever working from home now, the game has officially changed. Soft loungewear items like leggings, sweats, hoodies, and more are coming to the fashion forefront because, well, they're the pieces we're living in–literally.
Whether you're operating your office remotely or camping out in your own backyard with the kids–or both, God bless you–you've likely considered upgrading your indoor/outdoor wardrobe recently. You're in luck: There's a ton of picks that feel comfy, look cute, and keep you cool (ugh, tragic summer heat, anyone?!) because, no, the three aren't mutually exclusive. The best loungewear clothes can do double duty as your outfit and your, er, in-fit? They may feel like pajamas but they won't look like you stumbled out of bed and directly onto the street, which is always a good thing, right? Right.
To make the shopping search a bit easier, we've narrowed down the best women's summer loungewear pieces and comfort clothes we are wearing while WFH. From cute women's sweats and biker shorts to airy dresses and tanks, the choices ahead are some of the most beloved buys on the internet. Meet your new wear-to-video work call, homeschooling, and do everything from home looks. We think you'll be very happy together.
Best Yoga Top
Best Lounge Set That Doubles As Pajamas
Best Cardigan When You're Always Cold
Best Sweatpants With Pockets
Best Loungewear Jumpsuit
Best Printed Sweatpants
Now that you've found the best summer loungewear you can rock all season long, shop more comfy pieces from our fashion essentials.
This article was originally published on