The 12 Best Modern Bassinets for All You Chic AF Mamas Out There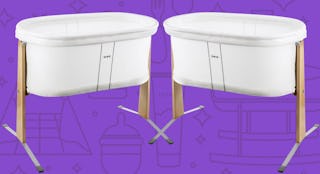 You've found a super-safe car seat, easy-to-clean high chair and ultra-portable stroller. The next big-ticket item on your baby registry? The bassinet. But you don't want just *any* bassinet. You want the coolest, prettiest, chicest bassinet. You want a bassinet that's a comfy spot for your bb to snooze but won't be a GD eyesore for the next six months.
Bassinets are a must-have if you're planning on room-sharing with your little one before transitioning them to the bigger crib in their nursery. In fact, the American Academy of Pediatrics' safe sleep guidelines recommend room-sharing for the first six months. Using a bassinet is a safe way to keep baby close without actually co-sleeping, and most can be easily moved around for daytime naps.
If your bassinet is going to be taking up oh-so-precious living room/bedroom footage, it should at least be beautiful. And, hello, babies' style sensibilities are forged at even the formative age of 3 weeks (*not science), so you're just being a good mom. We've rounded up the best in modern bassinets that are truly functional and won't horribly clash with your earth-tone aesthetic (garish primary-hued bouncers, we're looking at you).
Need more baby registry ideas? We got you.
This article was originally published on