These 10 Next-Level Baby Beauty Products Are So Good, You'll Add Them To Your *Own* Self-Care Routine
by Kelsey Haywood Lucas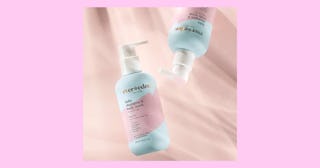 You share a lot with your little one: bites off each other's plates (there are zero boundaries at mealtimes), bodily fluids (your sweetie is just so skilled at sneezing straight into your mouth!), and even your sense of style (mommy-and-me matching outfits are irresistible, whether it's swimsuits or dresses—admit it).
And we've got one more thing to add to the list: your bebé's beauty products.
RELATED: Try This DIY Hand Sanitizer Spray Recipe To Keep Your Hands Germ-Free
The baby care industry has undergone a major glow-up in recent years. Now, the virtual shelves are stocked with clean, high-quality offerings at affordable price points—meaning moms don't have to choose between paying prestige prices or picking products full of toxins. And this surge in the market has led to a bevy of brands developing smart, innovative baby products—stuff so good you'll want to, ahem, "borrow" for yourself.
Sharing baby products brings on the benefits. "Being a mom is time-consuming (and expensive!)—so any time I can find one baby product that works for both me and my daughter, it's a win-win," says Cassie Shortsleeve, an integrative health coach certified in perinatal mental health and the founder of Dear Sunday Motherhood, an online resource for a better pregnancy, postpartum and new motherhood experience. "Moms are also notoriously bad at putting ourselves first, so finding a product that works for your baby and also for you ensures that you're getting the TLC you need as a new mom—which is so, so important."
As mama mogul Karolina Kurkova pointed out to us (read on for more from the Gryph & IvyRose co-founder), sharing baby products also makes traveling way easier—and, tbh, we are *here* for the idea of lighter bags and less packing (ya know, whenever we actually start traveling again).
Plus, when your kids are crawling all over you, sucking your skin, chewing your hair and basically inhaling your very essence all day/every day, it's particularly important that your own hair and body products meet the standards you set for your baby. "Knowing that the products we're both using are clean and safe gives me extra peace of mind," says Cassie.
RELATED: Not Today, Knots! Here's How To Detangle Hair Without A Lot Of Stress And Breakage
A little peace sounds nice, no? Read on for some of the best baby products to share with your sweetie—plus plenty of tips from the moms who made and/or love them.
The Smoothing Hair Detangler
The Better Baby Powder
The Bath-Time MVP
The Luxe Lotion
The Zen Sleep Spray
The Ouchy Ointment
The Softy Skin-Scrubber
The Safer Sunscreen
The Calming Eczema Treatment
The Bomb Balm
Now that your vanity is stocked, check out our other beauty products made just for mom!
This article was originally published on