Colorful, Bright, And Easy To Hold— These Montessori Learning Toys Are Exactly What Parents Are Looking To Buy In 2020
by Katie Bond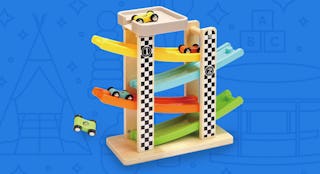 If you haven't heard the term "Montessori" yet, you've obviously been hiding BB under a giant rock. It's basically everywhere for parents these days— and for good reason. The Montessori Method – started by Maria Montessori – is a child-centered approach to education that is focused around hands-on, multi-sensory activities that allow kids to engage at their own pace. It usually involves playing with simple, realistic toys made of natural materials. This process of independent learning should (in theory) help your LO gain independence and confidence sooner and set them up for success later in life.
Sounds good in theory, right? Well, like all things involving kiddos, it takes work. If you aren't ready to fork over the hefty tuition for a Montessori preschool, educational Montessori toys are your best bet. That means you can ditch or donate those busy, loud, and insanity-causing plastic toys (Fisher-Price?). Here, you'll find the best of the best for both babies and toddlers. Think: classic wooden toys, brain-building puzzles, sorting toys, stacking blocks, and mazes galore.
RELATED: Free, Downloadable Unicorn Coloring Pages For Your Uni-Obsessed Kiddos
RELATED: The Weird History And Unexpected Benefits Of Lincoln Logs – Fatherly
We've got all the great learning toys stacked up here— colorful and noisy plastics, too.