HATCH's New Post-Maternity Fashion Delivers Wearable Pieces That Work For New Moms
by Zoey Washington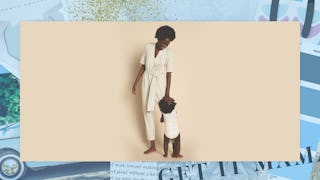 Hatch Maternity
A lot of thought goes into how to outfit your changing body during your pregnancy, but rarely do we turn our attention to postpartum recovery needs and how they can affect — of all things — your wardrobe. As many moms know (and soon-to-be-moms will find out), the road to recovery after your baby is born can be paved with annoying clothing issues from cumbersome nursing bras to pants that graze your painful c-section scar. And don't get us started on the struggle to look just the tiniest bit pulled together as your body physically heals and your emotions run high. The shock of witnessing your belly morph during pregnancy is only met with the awkward post-delivery phase when nothing fits, everything hurts, and comfort is king (or queen). Ah, the magic of postpartum fashion.
RELATED: Comfortable And Cute Baby Shower Dresses You Can Wear More Than Once
Thankfully, the uber-covetable and oh-so-fashionable maternity brand HATCH just launched a brand new category to support moms through every stage during and after pregnancy called Fourth Trimester: The After Baby Collection. Designed specifically for the stretch of time after birth, the new Fourth Trimester range offers essentials like fashionable maternity gowns and supportive nursing bras that marry the form of an effortlessly chic wardrobe with the function of postnatal healing design.
RELATED: The Best Maternity Shorts To Keep You (& Your Belly) Cool And Comfy All Summer
"We wanted the Fourth Trimester collection to address one of the most wonderful, but also one of the most challenging times in a mother's journey," explains founder and CEO Ariane Goldman."This collection of cozy, stylish and functional underpinnings, loungewear and nursing-friendly ready-to-wear is designed to make the transition from pregnancy to motherhood just a little bit easier — and feel a little more like you."
Keep reading for our favorite postpartum fashion buys and the inspo behind the post-baby wardrobe that is way better than your average pair of oversized sweats.
Need more pregnancy swag? Shop our amazing pregnancy fashion essentials.
This article was originally published on