The Best Play Kitchens That'll Occupy Your Kid Long Enough For You To Get Sh*t Done
by Jenn Sinrich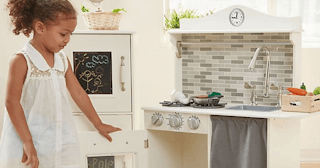 Buy Buy Baby
Play kitchens are the best: Any parent can attest to this. It keeps kids occupied, they're a lot of fun, and you can really deck 'em out for you little. It's funny how your kids seem to distract you in every which way when you're in your own kitchen trying to make them sit down in their high chair for a meal they will probably refuse and throw onto the floor while looking you dead straight in the eye, yet all they want to do is play in a toy kitchen of their own. Considering, most things toddlers and young children do are, well, just weird, we'll save you the time and energy of trying to figure out the reason for this strange dynamic and just accept it for what it is: an awesome opportunity to distract your children for hours at a time.
RELATED: How To Teach Kids To Cook: Simple Suggestions To Create An A+ Home Chef
Play kitchens captivate even the busiest, most easily distractible kiddos—and the more random trinkets and real-life features they have, the more of a time-suck they become. So whether you're stuck working from home for the foreseeable future, need to get a few things done around the house on the weekends, or just want to sit and read a damn book in peace (albeit with the noise of pots and pans smashing in the background), this is an essential children's toy that every parent needs (yes, it's a gift for you just as much as it's a gift for your child).
Choosing a kids' kitchen is about as tricky as picking out a new granite countertop for your own kitchen—there are endless options. To help you narrow down your list to the ones that make the most sense for you (and will occupy your kiddo the longest), we're sharing our own list of the best toy play kitchens on the market today.
Best play kitchens for small spaces:
Best play kitchen accessories:
Best play food for kitchen:
Looking for more great ways to entertain the littles and give you a well-deserved break? Check out all of our mom-approved kids toys.