The Best (And Safest) Baby Swings To Help Your Little One Go The F*ck to Sleep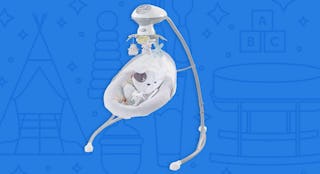 Hey #tiredmomsclub. We know what it's like to try to get through a full day, or even a few hours post 9-to-5, with a baby on your hip or crawling underfoot. Sometimes – or let's be real – oftentimes, we skip cooking, bathing, cleaning, and general self-care. Our biggest game-changer? The soothing, womb-like magic that is the baby swing. We love how these gadgets help babies get through fussing, teething, boredom, etc, and help mama get through life in general. Like most essential baby products, there can be some risks and factors to keep in mind when researching your best pick.
RELATED: 11 Best Outdoor Swings For Kids Of All Ages— Cue The Fresh Air & Fun
First up, check for recalls to make sure they meet the latest safety standards. According to the American Academy of Pediatrics in a 2013 article, "The safety rules were developed to protect infants after more than 350 swing-related incidents were reported between 2009 and 2012. Many swings already meet these standards, but older baby equipment may not."
Next, keep in mind that while swings give mama a well-deserved break, you should always be in the room with them or have them in sight. Know that smaller BBs need to be at more of a recline to reduce the risk of hunching over, but also try not to have them laying flat too much to avoid the dreaded Flat Head Syndrome. Basically, use these swings when you need 'em (whatever works, right!?) but know that daily tummy time and naps in the crib are a good goal to aim for.
Ahead, we're sharing the best baby swings on the market. They're safe, stylish, and full of fun features that will help your little one chill out and get a little cat nap in. We've got travel-friendly swings, deluxe *and* compact swings, and even swings that can be controlled from your phone.
Looking for more time and sanity-saving baby gear? Check out our mama-approved finds for all the gear that bb needs.
This article was originally published on