10 Kid-Appropriate Scary Stories That Give A Real Spook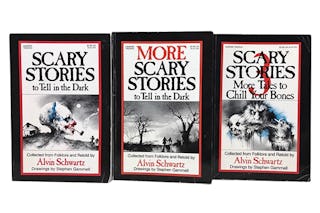 There's no room for "once upon a time" in the month of October, Mom. Especially not when your kids have Halloween on the brain. Fairytales are for sweet dreams; this time of year calls for something spooky. So rather than sending them off to sleep with happily-ever-afters, why not introduce a couple of scary stories for kids to the rotation?
Now, we aren't suggesting you actively try to give your kid nightmares. We're not suggesting that you read to them from a Stephen King or James Patterson novel. Scary stories for kids are just that — scary stories written for kids by authors who understand what it means to have a child's imagination. Sure, they might wake up in a cold sweat from time to time, but so what? It's all part of the fun.
But let's say your child has expressed interest in reading scary stories leading up to Halloween, and you're a little leery about how they might respond to them. You can always read with them, take on different roles and voices, and remind them that the stories are imaginary. There are no monsters under the bed, or in the closet; there is no poltergeist under their pillow.
They're just stories.
Still, the spookier, the better (at least in our book).
Scary Stories to Tell in the Dark is an excellent pick for middle-grade readers (and older) looking for tales that jump off the page. Each short is Schwartz's interpretation of an American folklore horror, but it will be Stephen Gammell's eerie illustrations that give your kid nightmares. For a family fright, have your child read one of the more than two dozen scary stories aloud before bedtime. Just don't be surprised when they knock on your door in the middle of the night and ask you to check for monsters.
RELATED: This Is The Ultimate Halloween Idea Guide Of 2019
R.L. Stine knows scary stories for kids better than any author in the business. The 10-book collection is a great starter pack to tap into the horror genre. Each page will transport your child's imagination to graveyards after dark, have them fraternizing with ghouls, exploring secret rooms, and more. Scary stories don't have to leave you cowering with fear under the covers; these will leave your child wanting more.
Think your child's weird? Wait until you're introduced to Miss Peregrine's peculiar children. Ransom Riggs knows how to send chills up your spine. Aside from this fantastical world he's created, and the unusual characters that may or may not be dangerous specimens inhibiting it, Riggs also throws in vintage photographs that are scary as f*ck. If your kid doesn't scare at the sight of them, we guarantee you will.
Whenever your child throws shade, chuck a copy of Coraline their way. Neil Gaiman's eerie tale centers around a little girl named Coraline who steps into a realm similar to her own, but better. But things are rarely ever as they seem, a lesson Coraline learns quickly when mommy and daddy 2.0 don't want to let the little girl leave. The moral of the story: Your kid has it made.
Anything involving dolls is automatically creepy in our book, and Holly Black's scary story for kids is definitely no Pixar adventure. When best friends Zach, Poppy, and Alice are forced to give up playing pretend, the trio goes on one last adventure to lay Great Queen, a bone-china doll that cursed anyone who displeased her, to rest. Dolls, ghosts, and an empty grave? Sounds like horror is just waiting to ensue.
Even the tiniest trick-or-treaters enjoy a good spooking. Disney Book Group has created a collection of scary stories for kids, starring none other than your (child's) favorite characters. Join old friends like Mickey Mouse and Peter Pan, as well as some new faces, like Wreck-It Ralph and Vanellope in these short stories made snappy enough for bedtime reading. But don't worry, Mom; these fantastical tales won't trigger any nightmares for your little one.
Yes, you read that right. No, it's not a typo. Michael Rex has taken Margaret Wise Brown's cult-classic, Goodnight Moon, and transformed it into this goofy parody (one we're positive kids will request again and again at bedtime). The scary story for kids is essentially a literary monster mash. Featuring a werewolf, goon, a black lagoon, slimy claws, "a couple of jaws," and more, your child's imagination will be soaring as they drift to sleep.
Fans of the Magic Treehouse series will love joining Jack and Annie on an adventure through New Orleans. The pair is on a mission to find a musician that can bring happiness to millions of people around the world. On their way, Jack and Annie come face to face with ghosts, adding a dash of spook to this beloved adventure series.
Before Disney Channel's kid series came to fruition, Vampirina Ballerina was a book written by Anne Marie Pace first. Just as Kermit the Frog said "it isn't easy being green," Vampirina will be the first to say it's hard to be a ballerina when you're hungry for your classmates' blood. But that's not even the worst of Vampirina's problems; she has a bad case of stage fright. OK — so this scary story for kids is less spooky and more cutesy, but we guarantee your little one is going to love it.
The Sanderson sisters once put a spell on you, and now their back for your little brats — er, children. Tweens and teenagers will love this two-part YA release. First, the book recaps the original tale of Max, Allison, and Danny. Then, the story jumps 25 years later, with a brand-new sequel starring your favorite characters, and a few fresh faces. Can you just imagine Winifred Sanderson trying to work a cell phone? Now that is a scary thought.
Although we only recommend picks we really love, we may earn a commission on purchases made through links from our site.
This article was originally published on