These Science Kits Turn Playtime Into Learning With Slime, Geodes, And Electricity
by Michelle Sparks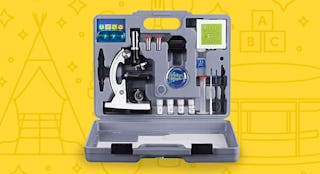 So your kids' favorite subject in school is science. (Or maybe it's not, but you'd like it to be.) Congratulations—you can now pass Go and collect $200. And by that, we mean you can now skip over the "fluff" toys (sorry, LOL Dolls) and move onto the far more sophisticated "educational yet entertaining" ones that only parents with children of your caliber have earned.
But which to choose? It's easy enough to go by age (science kits for 4 year olds vs. science kits for 9 year olds is a pretty self-explanatory decision). But then there's category, too. Geology vs. chemistry? Engineering vs. archaeology? How is an over-tired, over-stimulated parent to decide which are the best science kits for kids?!
First, take a deep breath. Then, reach for your phone and scroll through this list of the top science kits for kids in kindergarten through middle school. Whether it's a science experiment kit with exploding volcanoes or one of the many chemistry kits for kids with test tubes (and safety goggles!), your young rocket scientist in the making is sure to love one—or all—of these.
Want more fun gear to keep your little ones entertained (and perhaps even educated)? Check out the rest of our favorite kids toys.
This article was originally published on