The Best Sink Caddy Options for Controlling the Clutter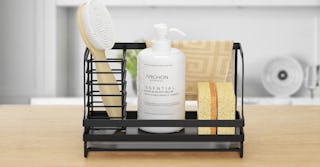 ODesign Sink Caddy With Kitchen Supplies
While cooking is actually pretty fun, the downside is that you inevitably end up with a sink full of dirty dishes and no magical elves to clean them all. And why are there are so many cleaning supplies needed? Regular sponges, scrubbing sponges, soft cloths, bottles of soap, and the list goes on and on… Fortunately, the best sink caddies help bring order to the chaos so that those rogue items have a neat, tidy place to live.
And sink caddy organizers don't have to look like an eyesore on your kitchen counter. It turns out that there are some really modern options out there that can actually elevate your kitchen's overall vibe. From stainless steel vessels with slide-out trays for easy cleaning to over-the-sink models that prevent any sponge leaks on your precious countertops, the kitchen caddies of yore have been seriously upgraded. There are even some flexible silicone caddies that are about the easiest thing ever to toss in the dishwasher (and you may even want to pick up an extra to wrangle your bathroom clutter).
If you're short on countertop space, some caddy options can even be wall-mounted so that your supplies are still within reach but not taking up valuable sink real estate. For those models, make sure to look for caddies with sturdy adhesive.
Keep the sprawl contained, organized, and looking cute with a sink caddy. They're available in a whole slew of styles, colors, and sizes, so finding the perfect one to spruce up your kitchen is a cinch — and there's one for every budget.
Best Sink Caddy
Best Kitchen Sink Caddy
Best Kitchen Sink Organizer