The Best Trolls Toys For Your Kid's Personal World Tour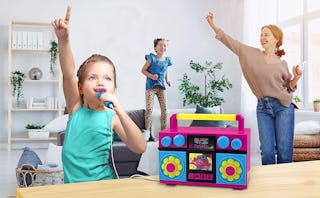 eKids Trolls World Tour Sing Along Boom Box
In the 2020 hit Trolls World Tour movie, when Polly says, "We're all trolls! Differences don't matter," the sentiment strikes a deep chord. If you're a sappy mom like me, you were probably even more moved than your child by this line, especially during these unpredictable times. And the best troll toys bring that inclusive sentiment to life while providing your kid with the opportunity to let loose and have a heck of a lot of fun. There's just something about those loveable little characters that make you want to dance, dance, dance (oh yes, I went there).
Whether your kid loves to belt out tunes like they're part of their favorite Trolls tribe or they just want to dress like Polly, there's a toy below that is sure to delight. From sing-along boom boxes to plushies and bath towels, the Troll gifts below hit all the right notes and there's one for every age and budget.
And let's be honest, we get the obsession. Trolls are cute, colorful, and totally reminiscent of the dolls we had during our childhoods, with the big rainbow hair. Can you believe the first batch of those came out in 1959? Yeah, they weren't even an emblem of the '90s like everyone thinks. In any case, they're making a big comeback — even if they never fully went away.
If you and your family are into the DreamWorks Trolls phenomenon, check out the 12 best trolls toys we could find on Amazon. We can't stop this feeling … that all deserve an "Add To Cart"!
Best Trolls Toys
Best Trolls World Toys
Feeling inspired? Shop 'til you drop at Scary Mommy's Spotted.