Here's A Non-Intimidating List Of The Best Wine Glasses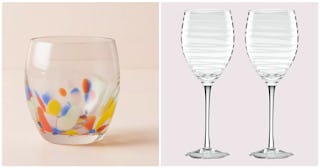 Anthropologie/Kate Spade
As we're closing in on a full year in quarantine, there's never been a better time to buy a new set of wine glasses. And finding the best wine glasses is one of those things that can feel intimidating, especially if you're buying some for a fellow wine snob. Now look, if you want to get crazy technical and "inside baseball," there are all types of details you can consider when buying wine glasses. But it doesn't have to be that complicated. You don't have to be a sommelier who can tell the exact year a wine's been barreled just by one swish and sniff (cue wine jokes here). Because look, you don't need to be well-versed in every type of wine to know you like to drink it.
So we've pulled together a non-intimidating list of the best wine glasses, whether you're looking for red wine glasses, white wine glasses, stemless, etc. We've got something that will fit the bill. Because it's been a tough year and Mama needs a glass of vino. Or like, three.
*And if you're not a wine drinker, many of these picks will work just as well with your booze-free beverage of choice.
Best Red Wine Glasses
Best White Wine Glasses
Best Unique Wine Glasses
Best Stemless Wine Glasses