It's Time For A Real Rain Jacket Mama — One That's Waterproof And Has A Hood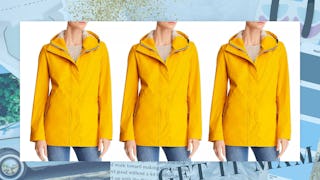 While rainy days are great for curling up under a blanket with a warm mug of coffee and a good book, the reality is that we often have long to-do lists to deal with even when the weather refuses to cooperate. Thus the need for a reliable rain jacket — we're talking something that has a hood and is at least water-resistant if not waterproof, so you don't turn up somewhere looking like you just went for a fully-clothed swim.
RELATED: These Toddler Rain Jackets Are So Cute, You Won't Mind When Your Tot Goes Puddle Splashin'
Fortunately, you don't have to sacrifice fashion for function when it comes to dressing for the elements. Whether you're looking for an anorak, poncho, or classic rubberized coat, here are our choice rain jackets for women that will keep you dry and in style. And if your kids spill on you, bonus points for saving one outfit. That is — if you made it past breakfast hour without a food handprint on your blouse.
Best Raincoats for Women
Best Lightweight Rain Jacket
Need some more closet inspo? We've done the research for you with our fashion finds.