8 Best Women's Underwear— Comfy, Cute & Won't Give You VPL— Even Under White
by Michelle Sparks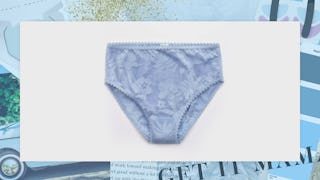 Come on underwear, you have one job: keep our lady bits comfortably covered. So why is it so hard to find a pair that does just that without riding up (hello, wedgies!), causing the dreaded visible panty lines (a.k.a. ruining that perfectly good loungewear look), or looking like something our grandmas would wear (sorry, Mom-mom!)?
To help you shop for the perfect pair of underwear (which can feel as impossible as shopping for a comfortable t-shirt bra), we rounded up some of the most popular styles from some of the most popular intimates brands, including Aerie, ThirdLove, Hanky Panky, and On Gossamer. Whether it's a seamless boy short—ideal for pajama time—or a lacy thong—it's your personal choice—these are the pieces that women around here swear by.
But before you click "add to cart," how often should you be replacing your underwear? And what's the best way to take care of all those new panties? We asked Erin Collins Rittling, Aerie Manager of Styling, for a few pointers. "Replace your undies about every 6-9 months and sooner if you wear them frequently and if they are getting a lot of wear and tear from your washer and dryer," she recommends. "If your undies are losing their elasticity and fit, they need to go!" And as for washing your underwear? "Cold water and a delicate detergent and try to use a mesh bag or wash separately," Erin says, adding that you should avoid the dryer if possible (or use a lower heat setting if you must!).
Want to makeover the rest of your wardrobe? Browse all of our favorite fashion and style finds here.