Keep Calm And Om On: 28 Best Yoga Gifts For Your Favorite Yogi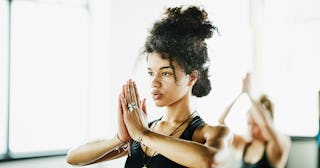 Getty Images/Thomas Barwick
Looking for yoga gifts for your loved ones this year? Makes sense. Yes, we know that the giving principles in yoga focus on seva—the act of selfless service—but let's agree that this year brought enough selfless service (oh, let us count the ways). Now is not the time to feel guilty about pampering with self-care gifts. That's why we found the best gifts for yoga lovers.
We talked to yogis coast to coast to bring you the ultimate yoga gifts that include everyone from your Zoom yoga teacher to your stressed out BFF to you, Mama! To help us with the best yoga gift ideas, we tapped Kino MacGregor, international Ashtanga yoga teacher, and author of Get Your Yoga On: 30 Days To Build A Practice That Fits Your Body And Your Life. According to MacGregor, best yoga gifts span everything from a quality yoga mat to a sturdy tripod (you can't vinyasa and hold a phone camera). And don't underestimate the value of durable hair ties and kaleidoscopic reusable tumblers to keep your tea steamy.
RELATED: 20 Best Friend Necklaces For Besties Of All Ages (Yep, Even Adults)
Yoga teachers are the other essential workers who've helped you preserve an iota of sanity this past year. Thank your favorite yoga teacher for their flawless Spotify playlists guiding each virtual practice, or a friend who introduced you to that awesome yoga app, or perhaps you need to show yourself some gratitude for rolling out that dusty yoga mat and becoming your own kick ass yoga instructor. Start browsing through zen-inducing candles, bub.
Now, wrap it up pretty as you keep championing yoga instructors through live and virtual classes, workshops and even retreats. "Yoga teachers and yoga studios have really been impacted this past year," adds MacGregor. "They could probably use a little bit of support from you."
Best Yoga Gift Ideas For Any Yogi Seeking A Zen 2021
Say Namaste With These Incredible Gifts for Yoga Teachers
Keep calm and om on as you browse our awesome gift guides.