LEGO Sets So Epic, Kids Won't Want To... LE'GO
by Zlata Faerman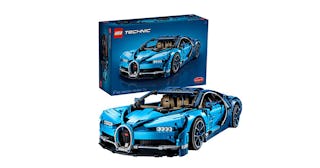 Amazon
The best gift you can give a kid is a big LEGO set that'll take them hours and hours (maybe days or weeks!) to complete. LEGOs are like the IKEA of toys: every single piece belongs to a greater puzzle you're trying to solve. Countless hours. Blood. Sweat. Tears (mostly from my son since he's impatient). All of this is a part of building a LEGO structure. Ah, but once it's complete, the result looks amazing, you're in awe of the functionality, and you cannot believe it's finally done. And if you need LEGO storage when you're all done, we've got great recommendations for you as well. You're welcome.
While some LEGO sets can be a pretty penny, it's worth it in the long run since you're paying for the hours of peace you get while they build, and then again as they play. "Sure they hurt to step on, but LEGO bricks let kids (and kids at heart) build incredible play sets and displays," says Toy Insider Editor-in-Chief Marissa DiBartolo. "LEGO sets are getting bigger and better than ever, and they keep you busy for hours on end, so they are certainly worth the hefty price tag they sometimes come with."
From Creators to Disney, here are some of the most fun LEGO sets to add to your collection.
Best Big LEGO Sets: