Your Kid's Next Obsession? Surprise Dolls They Can Grow From Pots
by Kit Stone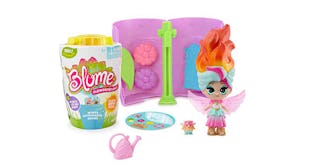 Amazon
It's about time to add another collectible doll to your kid's toy collection. Well, look no further than the cute and tiny Skyrocket Blume Doll. So what's so great about this doll? Trending toys come and go (like surprise toys, aka L.O.L. dolls), but these Blume Dolls just might stick around a little while longer. Surprise toys continue to linger on the wish list of most kids and the Blume Dolls come chock-full of surprises in every purchase. They're perfect for younger and older children.
Children fill with anticipation when it comes to surprise toys. They have no idea what's inside and that's only part of the fun. Opening a toy and finding out that there are even more surprises inside makes for a thrilling adventure for your mini-humans.
What are Blume dolls?
Blume dolls are dolls that literally bloom out of the flower pot. They come with 10+ surprises your kid can grow and play with. The dolls are centered around gardening (hence the name), and even come with toys that you'll find in real gardening kits.
With a little water, you can bloom your doll. Just put a tiny amount in your little watering can and sprinkle it on the top of your flower pot to watch your doll bloom. After your Blume doll blooms, you can find out if your doll is rare or super rare. Take out the doll and your child can find a number of surprises hidden in their flower pot along with a hidden playset.
If you're looking for a new batch of surprise toys to shower your child with, Blume Dolls is the way to go. Here are some of the latest toys to add to your child's toy chest this holiday season and beyond.
Looking for a few more toy options to keep your little ones busy? Check out some of the other toys we've spotted.
This article was originally published on