The Best-Selling Butterfly Vibrator Is Finally Back In Stock (And On Super Sale) — Hello, Orgasms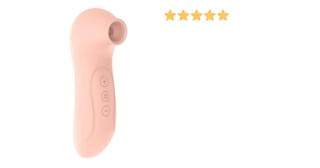 Your day is about to get better because there's a toy that's back in town and you are going to want to get your hands (and vulva) on it as soon as possible. In fact, all of Better Love's toys are 80% off today, so you might wanna check that out. ASAP.
You see, this vibrator — which is usually $167.99 — is on sale for $49.99 (it's currently 70% off, plus you get an extra 10% off with the code "DAYLIGHT" for Daylight Savings), and it's comparable to the very popular Womanizer Premium (which is worth every penny — check out our Womanizer review!) that costs almost $200 so let's just say this is a true bargain for your beaver. (We also love the Satisfyer Pro — another bargain vibrator that works just as well as the pricey stuff.)
While you may be saving some cash, believe me when I tell you your vag will never think you are being cheap. You get the same glorious "O" you do with other, more expensive vibrators with the Butterfly's ten suction vibrations. Oh, and this pearl pleaser makes a great date for your late night (or morning, or afternoon) bath since it's completely waterproof. And, its simple design contours nicely in your hand and the control buttons are easy to operate. The Butterfly may only be 4.6 inches, but it will make you orgasm for miles. Yes, it's a thing. Just get this vibrator and you will know exactly what I mean.
In fact, it's so good, one user brings it to work with her. "Since quarantine began and I got stuck at home, I started to masturbating quite often, sort of like a meditation ritual, I needed some release, I'm back at going to the office everyday and I was not able to bring my vibrator with me to the office, I searched the internet and found this product, SOO CONVENIENT I take it with me everywhere, it fits on my purse and doesn't look like a vibrator so win – win."
You can't argue a vibe that gets smuggled into the workplace isn't mind blowing. Every day should be Bring Your Vibe To Work Day with the Butterfly.
But like I said, there's no time to waste. This Butterfly is in high demand and flies away fast. So, don't think, don't second guess, the kids can have dinner a little bit late– order this battery-operator lover now.
This article was originally published on