The Coziest Cashmere For Cool Guys Everywhere — Because Dads Deserve Nice Things, Too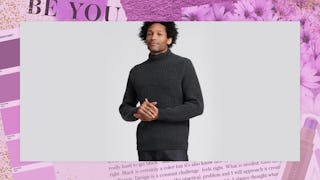 If you're looking for a thoughtful gift to give to the number one guy in your/your littles' life, consider cashmere. It's the perfect present for dads for a few reasons: one: it's just luxe enough that he prob won't buy it for himself, two: it's suuuper soft, and three: it'll step up his wardrobe game (so he actually has something nice to wear to your cousin's engagement party next week).
"There is something so inherently luxurious about cashmere," says Zoey Washington, a fashion editor and stylist who has worked with Elle and Essence. "Like silk, the way it feels and even just the mention of it can lead to higher prices, but in reality cashmere is softer, lighter, and keeps you warmer than wool." The finer grade of cashmere fibers = more $$$, but it's totally possible to score less expensive cashmere…if you know where to look, she notes.
Cashmere seems too impractical for #dadlife, thanks to your ketchup-obsessed toddler? Know this: you (ahem, your partner) *can* wash it at home, no dry cleaner trips required. We like the wool and cashmere shampoo from The Laundress for this express purpose. Simply turn your sweaters inside out, launder in a mesh bag (you fancy!) and toss in a couple capfuls of this specialty soap. Run it on the delicate cycle, then lay flat to dry. (Or you can hand wash if you find a spare 5 minutes.)
But dads must do their due diligence—cashmere (and any sweater, for that matter) must be folded, not hung on a hanger, Washington adds, or you risk stretching out the precious fibers.
For our favorite dad-friendly cashmere that won't break the bank (or rack up a sky-high dry-cleaning bill), spy our picks from Amazon, Everlane, Naadam and more.
Oh, your guy needs other clothes, too? More men's fashion right this way. (He's so lucky to have you!)
This article was originally published on