Some Of The Best CBD Oils, Creams & Balms To Soothe Your Everyday Aches And Pains
by Jessica Waller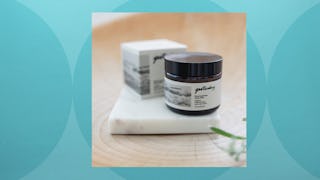 We don't need to tell you that motherhood is physical. Whether you're changing 500 newborn diapers a day or carrying a toddler up four flights of stairs or lugging your kid's harp all around town—not to mention the zillions of other tasks you do on a daily basis—your body gets put through the ringer. Which is where CBD oils and topicals can come in.
RELATED: What's the Difference Between CBD and Hemp Oil?
What does CBD stand for? It's short for cannabidiol, a non-psychoactive compound extracted from the cannabis/hemp plant. Benefits of using CBD vary depending on how it's used. CBD can be taken internally through an oil extract or applied topically to the skin via a cream or balm (more directly to target pain and soreness). "Topicals are the perfect option for anyone who isn't sure if they want to be taking CBD internally," says Eric Balshin, CEO and co-founder of CBD brand Yesterday Wellness. "They are effective for reducing pain or inflammation, but can also be used for helping ease skin disorders, like rashes or eczema."
CBD balms penetrate the skin layer to interact with the endocannabinoid system, which researchers have found can modulate our pain and inflammatory response. The result? Likely a calming, soothing feeling that "takes effect as soon as it is applied to the skin," notes Balshin, "and is ideal for anyone who needs immediate relief." As in, parents.
Whether it's a CBD-infused patch for period cramps, a tingly balm to rub on your feet before a big hike, or a rich lotion to work into your lower back, the next time that twinge or ache rears up, you may reach for one of these super soothing CBD topicals in a range of prices and formulas to quell the pain and get you back in action.
Best CBD Products For Pain Relief & Calm
From sunscreen to deodorant, we've got more summer friendly beauty buys right this way.
Disclaimer: Talk to your doctor before using any CBD products. Check out the FDA rules and regulations regarding CBD.
This article was originally published on