9 Baby Products Loved By Celeb Mamas Like Chrissy T & Kim K
by Michelle Sparks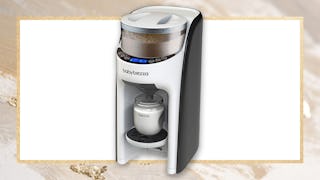 Celebrity mamas, they're just like us. Or rather, they're just like us in that they also scour Amazon for the best baby gear for their own kiddos. So while you might not have Kim K.'s limitless shopping budget or Blake Lively's flawless hair (please explain how this is even possible), there's a chance you have the same baby bath or diaper pail as your favorite celeb. Who knew you're basically already living like the rich and famous?!
To help you feel even more like the star mom that you already are (even if the number of designer clothes in your closet is a big fat zero and you're the one who actually does all of the diaper changing in your house), we've rounded up some of the most popular products on Amazon that celeb mamas swear by. Whether it's Chrissy Teigen's favorite teething toy for her daughter or Kate Middleton's go-to car seat, here's what you can add to your cart if you want to (literally) keep up with the Kardashians.
Want to stock up on more must-haves for your little one? We've rounded up all the best baby gear here.
This article was originally published on