The Best Changing Pads And Covers To Make Diaper-Changing As Mess-Free As Possible
by Jenn Sinrich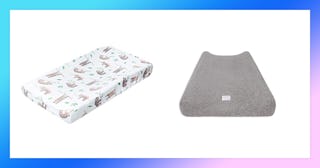 Amazon
High quality changing pads are a total must for any parent. There are a boatload of baby products that you don't really need. I mean, just a glance at the average mom-to-be's registry and it's clear to see how easy it is to go overboard. But on the list of baby gear you most definitely should shop for and purchase before your baby is born, diapering essentials, including the baby changing pad, reign supreme.
You'll be changing a whole lot of diapers (like upwards of 10 a day) and you'll need a soft, padded and waterproof place to change your baby that's protected and, better yet, straps him in place to make things easier for you. Usually a diaper changing pad sits just on top of a changing table or a standard dresser—either one should suffice. In fact, finding a changing pad for a dresser is usually a simple process because pads will fit on most dressers big and small.
Because, like everything else sold under the "baby products" umbrella, there's a seemingly overwhelming number of diaper changing pads to choose from, we're helping you narrow them down to the best changing pads and best changing pad covers.
Best changing pads for dresser:
pad and
Best changing pad covers:
Check out more baby gear that moms say you should stock up for your baby's first year and beyond.
This article was originally published on