We've Got Our Ion These Fun Chemistry Gifts For Kids And Grownups
by Karen Tietjen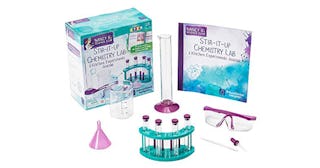 Amazon
Perhaps you didn't think that unique chemistry gifts would top shopping lists this year, but alas! With the rise of building sets, tech toys, and STEM activities, gear for science-y fun and kid-friendly experiments are more popular (and cooler) than ever. And, as it turns out, grown-ups are getting in on the chemistry trend, too (and, for the record, beaker tableware exists). So whether you're looking for presents for your favorite kid genius, chemistry teacher gifts for a valued educator, or a cheeky token for the science nerd in your life, you're going to want to stay tuned.
From molecular fashion to drinking vessels emblazoned with elements, there's a science-themed present for every smarty pants in your life. As a bonus, you'll feel like #momoftheyear for giving the kiddos screen-free entertainment that's also educational. Job well done!
Unique Chemistry Gifts for Kids
Unique Gifts for Chemistry Teachers
Unique Chemistry Gifts for Science Nerds
Need more gift suggestions? We got you covered! Our mom-approved gift guides will make you a present-slingin' pro.