These Citronella Candles Will Turn Your Backyard Into A Bug-Free Oasis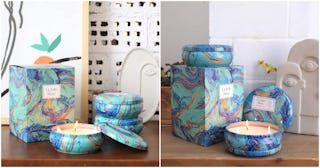 Amazon
Mosquitoes and other flies really know how to kill the vibe on those summer nights out. And citronella candles aren't always exactly the beacon of ambiance. Sometimes, sadly, they feel about as romantic as a can of bug spray. Fortunately, the beloved home goods brand La Jolie Muse launched a collection of citronella candles that are fashionable, affordable, and good at keeping those pesky bugs away.
These three-wick candles are smoke-free for sensitive breathers and exude a fresh, green citrus scent that is perfect for drinks on the patio, picnics in the garden, or even around your home. Candles are an easy way to add energy and inspiration to any occasion. And furthermore, the drip-free feature keeps the wax contained and ready for next use.
Offering 30 hours of burn time, these eco-friendly wax candles come in Van Gogh-inspired tins that you can save and use for trinkets, cosmetic storage, and more.
With an average 4.3-star rating, reviewers are as obsessed as we are. This review wrote that the La Jolie Muse candles did the job of keeping 'skeetoes away in summer while doubling as an adorable centerpiece. "We had a really bad bout of mosquitoes in the LA area this past summer," they said. "I have developed an allergy to their bites, so I was doing everything I could to keep them away! I lit it throughout the summer in our home to repel the mosquitos from coming inside. The smell is light and not overbearing. It seemed to do the job along with some other measures (bug spray, bug lotion, and repellant band), and it lasted a long time."
The La Jolie Muse Citronella Candle can be purchased in a set of three for only $36.99. For the quality and long burn, you really can't do better. So say goodbye to the stinky brands of citronella candles forever and bring some style to your bare-legged nights out.