I Tried A Personalized Hair Coloring Kit That Promises Salon Quality Results — Here's How It Went
by Gina Vaynshteyn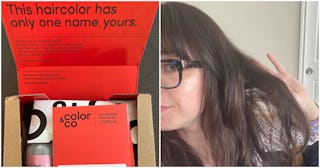 Scary Mommy
Even pre-pandemic, I'd always touch up my grays by myself. I made it into a every-two-months ritual, stopping by Target or the drugstore for a box of dark brown hair dye, whatever was on sale. I'd take the bottles out of the box, pour Bottle 1 into Bottle 2, shake, and slather the dye on my pesky silver hairs. Then, I'd watch reruns of SATC with a carton of dulce de leche ice cream in hand until my scalp started burning a little bit, go wash the formula out, and boom! Fresh roots.
Some months felt like I'd found the perfect match to the rest of my dark brown hair, while other times I'd catch a glimpse of myself in the reflection and notice my roots were sliiiiiightly lighter, or had a red hue (hair dye is truly a science I will never understand). The difference in hues was ultimately not noticeable to anyone but myself and my hair dresser, so box dye it was. It saved a lot of money, and it was convenient. For anything more complicated, like highlights, I visit my salon. But when I'm just hiding my grays, who cares?
And then I discovered Color & Co, a personalized home hair coloring kit that promises salon quality results.
Color & Co works like this: You set up a virtual consultation with a hair stylist who assesses your hair by asking for hair color history, texture, length, and volume. They'll also ask what you're looking for. Do you want to just touch up roots? Dye your head of hair a shade lighter? A shade darker? Do you want to try a bright purple, or go platinum blonde? After obtaining all this information, you'll be sent a personalized kit containing all the dyes you'll need, along with detailed, step-by-step instructions that are basically impossible not to follow. (They also give you a couple pairs of high quality gloves, along with a special goop you apply to your hairline so you don't end up staining your skin.)
After the consultation (which is free) with my colorist, Troy, I was set up with a "Dark Natural Cool Brown" kit which included a custom dye for my roots, as well as a dye for the rest of my hair. The formula I'd be applying to my grays is darker and permanent (so that it can more easily permeate the strands) versus the formula for the rest, which is semi-permanent and a tiny bit lighter (Troy said it's designed to add some dimension and shine, as I told him I felt like I was struggling with dullness). A few days later, I received my Color & Co box in the mail. It was actually pretty nice not having to schlep all the way to Target for my supplies.
Here's what my hair looked like before:
And here's a close-up of the grays I was about to tackle (BTW, there's absolutely nothing wrong with gray hair — I just personally like to play around with colors and like the way my hair looks when it's darker):
So, while I don't have *a lot* of gray hair, the grays I have are resilient. They grow fast, and they don't accept color very easily. I was curious how Color & Co's formula would perform, compared to other boxed dyes (which can be hit or miss).
Following the instructions was easy-peasy and only slightly more involved than regular box dye. I first applied the darker, permanent dye to my roots, and waited about 20 minutes before applying the other formula to the rest of my hair. I have long hair (which Troy accounted for when he put my Color & Co kit together) and was relieved I didn't have to stress about running out of dye halfway through the process. I waited about 45 minutes total before washing the dye out.
The results
Overall, I was really happy with how my hair looked after I washed out the dye and dried my hair to assess the final results. My hair looked shinier and healthier, and my grays were taken care of. I wasn't going for a totally different color, so my hair looked the same, just glossier. The next time I dye my hair with Color & Co, I'll probably leave the dye on for an extra 10 minutes, since my grays were slightly lighter than the rest of roots (like I said, my grays are tough). The Color & Co kit really is salon-quality, and for about $10 more than a drugstore box dye, I'd say it's worth the investment. Plus? No accidental skin staining or cheap glove-ripping. I felt like I had just gotten my hair done from the comfort of my couch.
One day post-Color & Co:
One month post-Color & Co:
With a subscription, Color & Co costs you $21.90 a box, and without, it's $29.90. If you know you'll be regularly coloring your hair, you might as well subscribe (you can cancel any time). And like I said, it's pretty freeing not having to worry about picking up a box on your next Target trip. Ultimately, Color & Co is a great solution for when you don't necessarily want (or need) to go to the salon, but you still want to upgrade your box dye game without spending a fortune. Convenience and quality FTW.
This article was originally published on