These Adult Dinner Party Games Will Keep Everyone Entertained When You're Stuck Inside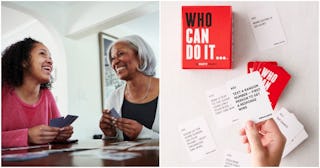 Getty / Uncommon Goods
Dinner party games for adults are an entertaining essential along with home decor and chic servingware. For now, it may be just you and your partner, roommate, or your closest fam, but (*fingers crossed*) it'll be safe to have a traditional dinner party soon. After all, these gatherings can be a great way to bring people together for interesting conversations, new friendships, and of course, delicious food. But in order to keep things fun and exciting, you may want to whip out some adult party games to keep the convos flowing. The right game can spark lively discussions, create a more lighthearted environment, and make people feel a bit more comfortable with another. Oh, and obviously, it's super fun for everyone.
When looking for a good dinner party game, steer away from board games or anything that involves small pieces — it's just easier for everyone that way. Opt for something that's really interactive, so even the shyest guest at the table will be laughing and talking. You can choose an activity that piques thought and intrigue, and the right audience, slightly inappropriate games can make for a truly hilarious evening. (Hey, there's a reason these aren't for family game night!
Once you find a dinner party game you love, you'll find yourself bringing it out at every gathering and holiday event, so it's never a bad idea to have more than one on hand (too much repetition can quickly make a game boring and predictable). Plus, it's nice to have a few different options to offer guests, depending on the mood of the crowd.
You may not be planning a party in the next month or two, but let's be optimistic and look ahead to what's possible soon. Or, if you have teens, grab one or two of the more wholesome options on this list and try 'em out. In any case, stock up now, because when the time is right, these adult dinner party games will be a huge hit at your next get-together.