19 Most Magical Disney Suitcases For Kids (And Kids At Heart)
by Emily Popp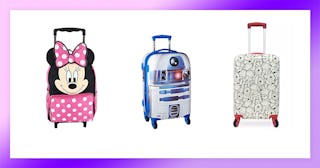 ShopDisney/Amazon
If you're in the market for some Disney luggage, look no further. You've come to the right place. These days during COVID we can't travel in the same way we used to. But with vaccines rolling out, things will (hopefully) begin to look a lot different in 2021, and eventually we'll be able to plan vacations like we used to. Disney parks are already starting to reopen with safety measures and limited capacity, and some families have been using single vacation home booking sites like Airbnb or Vrbo to aim for a safe and secluded getaway. In the meantime, now is a perfect time to invest in some quality luggage, because you can find some really great markdowns.
For all you Disneyphiles out there dying to get back on Space Mountain and craving Dole Whip, tide yourself over by buying some Disney luggage. We've pulled together the best Disney-themed suitcases for kids and the best ones for adults (because we never age out of our love of Disney). We've got something for every type of Disney fan, whether you're obsessed with Disney princesses, Disney villains, vintage Disney movies like Snow White or the more recent hits like Frozen. Plus, we've got options for all you Star Wars lovers.
Below, see our picks for the best Disney luggage for kids and kids at heart.
Disney Luggage for Kids
Disney Luggage for Adults