Amazon Is Selling A Disney Advent Calendar Filled With Books
by Julie Scagell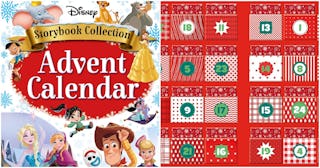 Amazon
Advent calendars are all the rage these days — you can get them filled with everything from socks to wine to tea, even spiked seltzers. But nothing (even the wine) beats an advent calendar filled with books.
The holidays are right around the corner (just ask the Hallmark channel), so it's a perfect time to stock up on the necessities. Yes, advents are a necessity because who doesn't love opening tiny little doors and windows for weeks leading up to Christmas morning? Amazon, the keeper of all things holiday, is selling an advent calendar to beat all advent calendars, and it's filled with Disney books.
Disney released the book advent calendar over the summer and it contains 24 books, each featuring one of the many beloved Disney characters like Peter Pan, Aladdin, Mulan, Belle, Lady and her Tramp and others. According to the site, the Storybook Collection Advent Calendar is a countdown to Christmas for little kids (and big kids at heart). "Open each book in this advent style calendar and read along with your favorite friends to create magical memories with these 24 timeless tales," it reads. Though the books tale familiar tales, Disney promises "brand new content" in each.
Imagine waking up during the month of December and opening a brand new book that you can read with the whole family. There's nothing better than reading with your kids (except maybe when they're old enough to sleep in on Saturday mornings), and this calendar is the perfect way to keep reading fun and memorable because who doesn't love everything Disney makes?
The paperback books are each individually wrapped in a paper sleeve "to keep every story leading up to Christmas a surprise!" There are so many of the classic characters at the center of each book and Disney even included a Toy Story 4 book which is bound to be amazing.
I'm lucky enough to have a mother-in-law who sends my husband and I (and our three kids, of course) an advent calendar from Scotland filled with Dairy Milk (if you've not tried this chocolate, please do), so I've never thought much about buying another one (though the wine ones do pique my interest). But it's impossible to look at this Disney calendar and not buy it. It's Christmas and Disney and books and that's a pretty hard trifecta to beat.
The calendar is available for pre-order on Amazon now and will ship on November 15 when it's released. Even better yet, it's selling for only $30. 24 books for $30? Hell yeah. The hardest part will be waiting until December to open it!
This article was originally published on