Brighten Someone's Festival Of Lights With These Thoughtful Diwali Gifts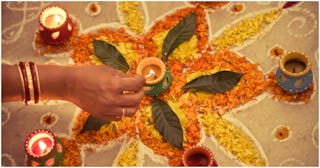 Getty Images/© Manogna Reddy
Diwali gifts can either be things that are traditionally associated with the holiday, or items that are more modern and creative — and both will surely be appreciated by the recipient! Sure, you can always choose time-honored, all-occasions presents such as gifts for tea lovers, gifts for coffee lovers, or toys for kids, but many of the gift ideas (and decorations!) we've rounded up below are associated with the central themes of this important fall holiday.
But first, some basics…
What is Diwali, and why is it celebrated?
Diwali, the biggest holiday in India, is an important religious festival for Hindus, Jains, Sikhs, and some Buddhists. Celebrations for this festival of lights vary by religion, country, and region, but in general, people exchange gifts (clothing, jewelry, sweets, dried fruits, and so on), get together for family feasts, and brighten their homes with flowers, candles, and oil lamps called diyas.
When is Diwali?
In 2021, Diwali begins on Thursday, November 4, and lasts for five days.
What are the best gifts to give for Diwali?
To find the perfect gift for the festival of lights — or to get a few suggestions for decorations — check out our big list of picks below!
Best Diwali Gifts For Family
Best Diwali Gifts for Kids
Best Corporate Diwali Gifts
Best Diwali Decorations