Best Elf Outfits If You're Out Of Ideas For The Damn Thing
by Team Scary Mommy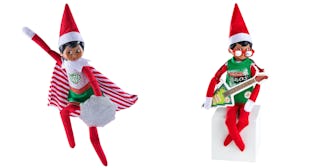 Walmart
If you're thinking "I don't need outfits for my Elf on the Shelf because that's way too extra," then we can't be friends anymore. JK, Elf on the Shelf outfits ARE extra, and we love that. 'Tis the season for all the holiday decorating. Or, if you want to keep things really low-key, you can simply invest in some very, very cute outfits for your family's Elf on the Shelf. It's super festive and will require minimal effort on your part. The ultimate win-win.
RELATED: Exactly 44 Cute, Silly Elf On The Shelf Ideas To Get You Through Another Season
The good news is, you've got tons of options to choose from that you, the kids, and the entire family will enjoy. Whether you've got an Elf on the Shelf girl, boy, or both, you'll definitely find something you love. The latest editions of Elf on the Shelf clothes come in a wide variety. Places like Walmart, Michaels, and Amazon have elves playing soccer, partying, rocking out on the guitar, and of course, keeping the classic Christmas colors and traditions. So this year, keep your holiday decorations stress-free by dressing your Elf on the Shelf in something cute and festive! We've got a great list narrowed down to keep things simple for you.
Here's to lots and lots of cute, super low-key winter cheer. Your little elves are happy to pick up all of the holiday slack. And if you're looking for more holiday gift guides, decor ideas, or sales lists check out Spotted!