This Facial Mask Has An Insane 12K 5-Star Reviews On Amazon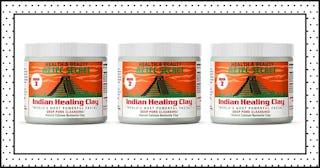 Aztec Secret Indian Healing Clay has become one of those cult classic beauty products that you've either heard about, swear by, or have a friend (or eight) who swears by. Made exclusively of 100% natural calcium bentonite clay with no additives, fragrances, or animal products, you can mix it with water or apple-cider vinegar — the latter of which may kill acne bacteria on the skin.
It's not just that this old-school tub of apparently magic clay has a few good reviews. Rated as one of the best things on Amazon, it has more than 12,000 5-Star reviews that casually throw around phrases like "life-changing," "miracle product," "literally the best mask I've ever tried." Um, consider us legit convinced.
Recent reviews on Amazon:
"I've been using this mask for a little over a week now….This is the only thing that has ever worked for me. And I have tried EVERYTHING to fix my skin. If you're on the fence about this product BUY IT! This is my only ever review on amazon because it actually does work if your consistent with it!!"
"This stuff is incredible. I have sensitive skin and stuff like this usually breaks me out, but this magic powder, mixed with ACV, no less, just made me red for a little bit, and left me feeling smooth like butter."
"This product is AMAZING. It's an official Holy Grail product of mine. I ideally use it once-a-week, and it feels as if angels themselves have taken the time, to delicately renew my skin with the magical touch of their wings."
Our mom experts only recommend picks they really love. We may earn a commission on purchases made through links from our site, but if we love it, we know you'll love it. And we Scary Mommies gotta stick together.
This article was originally published on