30 Gift Ideas For Your Father-In-Law When You're At A Total Loss
by Jenn Sinrich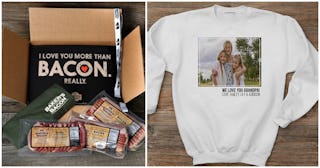 Bakers Bacon/Personalization Mall
If you thought your partner was hard to shop for, just wait until you have to brainstorm gift ideas for your father-in-law—the family's most notoriously impossible person to buy gifts for. They either always say that they "don't need anything" or they're the pickiest person on the planet (somehow even more than the person you married!) Luckily, if you're shopping online like most people this year, there are endless options available to you at your fingertips—even for someone as hard to shop for as your father-in-law.
Whether you're shopping for Christmas gifts for father in law or for their 50th birthday, the easiest way is to figure out the best gift for your father-in-law is to narrow down his interests. Even if you can't really think of them on the spot, you might put two and two together in terms of his good taste in wine, his obsession with the latest and greatest technology, or his non-stop talk about golf. Putting him in bucket categories always makes it easier to narrow down gift ideas. Is he a coffee lover? A fisher? A reader? Time to think, Mama!
If all else fails, a gift receipt always comes in handy—or, of course, you could just tell him to STFU, deal with it, and be grateful that you got him anything at all (you big ball of sass, you). This year, as you consider what to get your father-in-law for his birthday, the holidays, or just because, we're helping you out by narrowing down a handful of products that might fit the bill.
Best Gifts For Father In Law
Birthday Gifts For Father In Law
Future Father In Law Gifts
Need more ideas for presents this year? Check out the rest of our gift guides!