Frazia Is Selling A Wine Backpack So We Can Tote 5L Of Wine Wherever We Please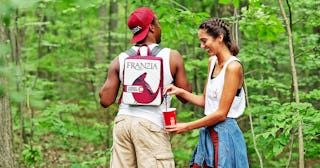 FRANZIA WINES
Just throw in your favorite grape and head out the door
If the pandemic has you imbibing more than usual, you know wine can get pretty expensive. What may have been an aisle you snubbed your nose at previously may now be looking pretty appealing — and by that I mean wine of the box variety (otherwise known as senior year of college). Franzia, America's top-selling boxed wine, is stepping up its game to include some sweet, sweet merch, including your very own personal wine backpack.
The California-based winemaker known to sell its Chardonnay, White Crisp, Cabernet, Pinot Noir, and everyone's favorite headache-in-a-box White Zin across liquor store shelves across the U.S., Franzia has a cult-like following because it delivers wine — and lots of it — at a good price. You can buy a 5L (that's 6.7 bottles) for under $16 bucks, making the BTD (buzz-to-dollar) ratio hard to beat. Now, fans can celebrate it by donning any number of apparel items, including a boxed wine backpack.
That's right, you can go on that mountain hike and summit with a nice bottle or six of wine to celebrate. Who needs water? It's so 2019. Gone are the days of hiding your roadie conspicuously in a coffee tumbler at your kid's baseball tournament. This backpack lets you proudly sit in the bleachers and say, "Sure, it's only 9 a.m., but it's gonna be a long one. Who's with me?"
"There is a special kind of friendship formed around a box of Franzia that turns friends into 'Franz,'" Jeff Dubiel, chief marketing officer at Franzia's parent company, The Wine Group, said in the announcement. "Our goal is to connect with these consumers throughout all of life's friendship moments by continually offering new ways to interact with the brand. With our line of merchandise, we are giving our biggest 'Franz' fun new options for sharing how they are Franzia 'Franz for Life.'"
But wait, there's more.
In addition to the backpack, wine lovers can also buy a branded red 'I Heart Box Wine' party cups, a Franzia cycling jersey, boxer shorts with Franzia boxes parading around, a box speaker, a trucker hat, and — my personal favorite — the 'Best Franz' paired necklaces, which are a throwback to the "Best Friends Forever" necklaces you broke apart and gave to your BFF in junior high school.
The best part is the brand is sticking to their commitment to offer the public items at a fair price. Nothing in the collection is over $65 and since it's 2020, we say treat yo'self. Shop all items on Franzia's website.