Funfetti Pancake And Waffle Mix Exists Now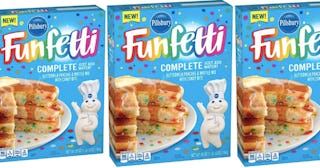 Pillsbury has blessed us with Funfetti pancake and waffle mix
Have you ever thought how nice it would be to just eat cake for breakfast? Well now your deepest dietary wish has come true, because Pillsbury has Funfetti pancakes and waffle mix and we've died and gone to grade school birthday cupcake heaven.
BEHOLD — your brand-new birthday morning (or any morning) breakfast tradition.
The box says it will make buttermilk pancakes or waffles with those famous Funfetti candy bits and all you have to do is add water, mix, and cook on the stove. You don't even need eggs. The future is here and it is bright and colorful and sweet as literal cake.
And a quick perusal of Instagram hashtags proves that this is what the people want — people have been hacking their own version of Funfetti breakfast foods for years, and now, it's all in one box and couldn't possibly be easier.
I mean, who wouldn't want this every morning?
https://www.instagram.com/p/BzovGCSlaRT/
If rainbow breakfast foods are your thing, then you'll also probably be down with this Unicorn Froot Loop cereal. Again, who wouldn't be?
It doesn't appear to be any kind of limited edition, so even though your instinct is probably to sweep the entire shelf of this magical blend into your cart, you can probably try to retain some amount of chill.
Or not. We won't judge you one bit.
This article was originally published on