8 Best Grills To Keep Cooking (And Cleaning!) Quick & Easy For Family Meal-Time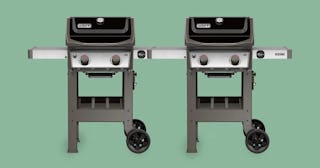 Late summer weather can be tricky: Even when it's hot and humid, you know the warm days are fleeting and you want to savor every minute outside before the chaos of BTS starts up and fall weather kicks in. Spending time in the kitchen cooking elaborate meals is out. (No, thanks!) Instead, we will do all we can to soak up valuable outdoor time while the kids run free and you throw burgers, chicken, veggies, and even pizza on your BBQ grill. Plus dining outdoors is so much easier for clean-up!
Whether you're a BBQ novice or a grill master, there's a BBQ grill out there that is perfect for your entire family. When dads pick the grills, they are always BIG, with bells and whistles you may never, ever need. We've zoned in on what works for us, keeping it simple and functional. Here are a few top-rated options that will get you through the dog days of summer— enjoying every last grilled meal while we can.
Looking for more ways to up your dining experience? Check out these home and kitchen essentials.