31 Gift Ideas For Your Brother, Even If He Annoys The F*ck Out Of You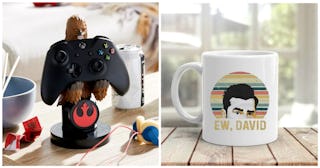 Urban Outfitters/Wish
When it comes to best gifts for brothers, shopping can be tricky. Yes, he may annoy you, but despite that you still want to find the perfect gift for your sibling. Even if you and your brother bicker like Alexis and David Rose, you still love each other. Yes, maybe he stole your CD player and broke it when you were younger or ratted you out to your parents that one time, but it's transgressions like those that we forgive because: family. So we've pulled together the best gift ideas for your brother, whatever his tastes are. Whether he's a pop culture junkie, an outdoorsy type, a foodie or every type of bro in between.
If you're at a loss as to what to get your brother for Christmas, we've got you covered. But these gift ideas work for all occasions—his birthday or any other big milestone moment. And we've got something for every form of brother—big, little, in-law, etc.
Below, see our picks for the very best presents for brothers.
Christmas Gifts for Brothers
Gifts for Brothers From Sisters
Birthday Gifts for Brothers
Gifts for Brothers-In-Law