21 Genius Gift Ideas For Engineers
by Keri Pina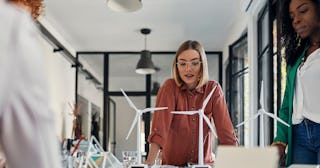 Getty Images/Westend61
Engineers tend to be pragmatic individuals, so if you're looking for the best gifts for engineers, whether it's gifts for mechanical engineers or gifts for civil engineers, it's easy to feel like whatever you get them has to have some sort of practical use in order for them to enjoy it. But engineers are also incredibly curious, creative, and inventive, which for some unknown reason, often translates into a delightfully snarky sense of humor. So while utilitarian gifts will always be appreciated and put to optimal use, you don't have to shy away from fun or silly gift ideas that show them you appreciate their fun side, too. Just remember, whatever gift you give them, present it with confidence. They can smell fear!
If your favorite engineer is still learning the ropes, there are plenty of gift options to help them on their journey. STEM degree programs are notoriously grueling with specific tools and materials required to get ahead, so when you're looking for gifts for engineering students that are actually useful, or graduation gifts for engineers who are eager to get to work in the field, we've got you covered. Here are the best gift ideas for engineers.
Gift Ideas for Engineers
Gifts for Civil Engineers
Gifts for Mechanical Engineers
Graduation Gifts for Engineers
Gifts for Engineering Students
Need more gift-giving ideas? Check out the rest of our gift guides!