30 Gifts Movie Lovers Will Love— Possibly More Than Actual Movies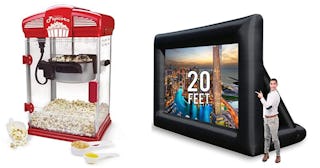 Amazon
Searching for gifts for movie lovers this holiday season? We all have at least one friend who loves movies more than the average human. Maybe they went to film school and have a deep appreciation for the art, maybe they love the entertainment, or maybe they're in it for the popcorn—which, honestly, makes sense. Considering most movie fans watch a shitload of movies on a regular basis, gifts for movie buffs are truly the gifts that keep on giving. Whether it's a cozy pair of socks, gourmet popcorn, a projector for backyard movie night, or a movie ticket stub diary, you really can't go wrong when buying movie-themed gifts for film lovers.
And if you're that one friend who's obsessed with movies, it's never a bad time for a little self-indulgence. These are some of our absolute favorite gifts for anyone who loves movies.
Best gift ideas for movie buffs and film lovers:
Need presents for the rest of your pack? Check out our gift guides!