It's true what they say: the Devil works hard, but Kris Jenner works harder. Love them or hate them, since their 2007 debut on Keeping Up With The Kardashians, America's First Family has become a global, billion-dollar brand that has shaped social media into what it is today. With matriarch — and "Momager" — Kris Jenner at the helm, sisters Kim, Kourtney, Khloé, and younger Jenner sisters Kylie and Kendall, have created the Kardashian-Jenner Industrial Complex, earned an equal amount of love and hate, and have provoked countless conversations about sexism, racial identity, body image, and mental health.
But even the critics have to agree that the family is clearly playing the game of fame the right way. By letting fans behind the doors of their highest highs and lowest lows, the family has created a sense of intimacy that so often escapes other wannabe reality stars. Therein lies the Kardashian secret power. Well, that and their ridiculous antics, family feuds, and iconic moments in pop culture.
And you couldn't stop them any more than you could stop a speeding train. With the next generation of Kardashian kids growing up in front of our eyes, there's no end in sight for this dynasty so might as well sit back and enjoy the shit show. So if you're looking for your next sarcastic Instagram caption, an inspirational quote to get you through the day, or just want to walk down Kardashian memory lane, we've curated the absolute best quotes from the whole family, ahead.
Looking for more quotes from your favorite TV shows? We've gathered lines from Friends, The Office, Seinfeld, and more.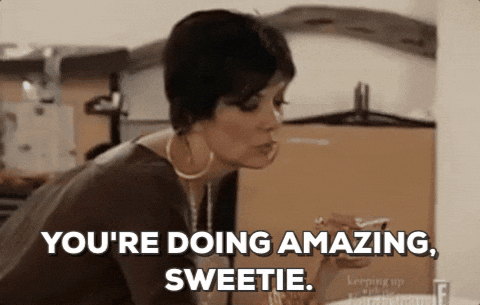 Kim Kardashian West's Quotes
"I'll cry at the end of the day. Not with fresh makeup."
"I'm kind of shocked I'm getting a fashion award when I'm naked most of the time."
"There's a lot of baggage that comes with us, but it's like Louis Vuitton baggage; you always want it."
"If you're not into what I'm posting, don't look."
"I love when people underestimate me and then become pleasantly surprised."
"I think as long as you learn from your mistakes and don't make them over and over again, you're on the right path."
"Maybe my fairy-tale has a different ending than I dreamed it would. But that's OK."
"Holidays are the best. I couldn't imagine being from a small family."
"I'm an Armenian, so of course I'm obsessed with laser hair removal."
"I don't understand why everyone is always going on about my butt. I'm Armenian. It's normal."
"Honey, would you put a bumper sticker on a Bentley?"
"I used to be so dependent on the guys I was in a relationship with. I don't know why, because I wasn't raised that way. If I looked at myself at 19, I would shake myself and be like, 'Wake up. You are way too smart for this.'"
"Daddy is a singer, performer, artist. Mommy has so many talents I can't even begin to name them."
"Kowabunga dudettes. I'm so pumped to be on this surfing kick. Who else surfs out there? Gnarly day in the H20. Ridin' waves!"
"You never know what the future holds or where my life will take me."
"If I look at the message I'm portraying, I think it definitely is, be who you are, but be your best you."
RELATED: These Cheeky And Memorable 'Sex And The City' Quotes Will Carrie You Away
Kris Jenner Quotes
"Give me that fucking bread."
"You're doing amazing, sweetie."
"When you feel like something is really wrong, it's usually wrong."
"I'm going to sew up my vagina."
"There's a lot of people that have great ideas and dreams and whatnot, but unless you're willing to work really, really hard, and work for what you want, it's never going to happen."
"Kim, would you stop taking pictures of yourself? Your sister's going to jail."
"I don't have any cell service here and it's making me have a rash."
"Costco is a passion. Costco is like a massage."
"Every day is different; you never know what to expect, and you have to be ready to pivot on a dime."
"I've actually trademarked the term 'Momager', which is what I am."
"I like everything a certain way. I'm not somebody who can just lay back and let it happen… And I think that's what's gotten me to where I am in life."
"When my kids are happy, I am happy."
"I'm strong enough and have a pretty thick skin, but when people go after my kids, I just hit block-delete, block-delete. It's my mantra."
"Some people don't know how to take some of the everyday, regular things that they have going for them and turn it into something else."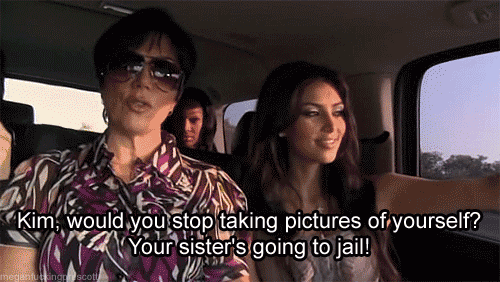 Khloé Kardashian Quotes
"The bigger the hoop, the bigger the hoe."
"You have your whole life to be old but a few years to be young."
"Yes, Robert. What do you want now, more money, a check, a car, my soul?"
"Yes, Satan?" — When Khloe picked up a call from her mother.
"I live in a world where there's magazines and blogs, and people feel like they are allowed to criticize me, and in the meanest way."
"I have a nipple obsession and personally love when women show their nipples. Perhaps I was a member of a nudist colony in my last life."
"Knowing you're a badass bitch is just all what life is about."
"First of all, I'm incredibly athletic, so fuck you."
"A lot of adults don't think it's their place to interfere with kids. I interfere all the time."
"I don't believe in revenge. When people are bullies, it's because of a deeper-rooted issue. Either their family life is tough or they're being bullied by someone bigger than they are."
"I don't feel the pressure by outsiders. I'm not someone who's easily influenced by the public."
"A little bun in the oven. Your ass is gonna be so big!"
"I would save Kourtney because she has kids, and Kim has a fat ass, so, like it would save her herself. It's like a floatation device."
"Ever since Kim called me a troll, I love using that word."
"I'm Khloe. My sisters say I am a bitch."
"I love hard; I love who I love, and I don't make any qualms about it."
Kourtney Kardashian Quotes
"I don't think anyone can fall in love for ratings."
"Thank God I have no friends."
"Being a mom is what life is about. I hope people realize what the priorities in life should be and know not everything has to be perfect."
"You're acting like drunk slob-kabobs."
"Have you ever put food up your ass? A pickle would be good."
"You're worthless." — When Scott Disick greeted her in the morning.
"Kim, there's people that are dying." — When Kim cried over her lost diamond earrings.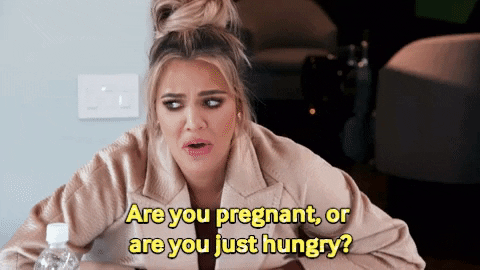 "Fashion is so subjective, and I think it should be playful."
"I'm probably the least harsh on myself, and I try not to scrutinize everything about my body. As a new mom, it is what it is, and we just have to do our best."
"For me, juggling mommy-hood and work is a challenge, but each day I learn little tricks to make it all come together."
Honorary Kardashians
Kylie Jenner Quotes
"Love is when the other person's happiness is more important than your own."
"The more people that love you, the more people that are going to hate you."
"I take, like, 500 selfies to get one I like."
"It's always the people that know the least about you that want to judge you the most."
"I do everything I want to do."
"I feel like I've lost so many amazing traits because I've listened to stupid people, ignorant people who are bullies" 
"Don't f*ck with me, I woke up at 6:30."
Kendall Jenner Quotes
"Holding your pee is no way to live life."
"It's crazy to think North West can already read better than Kendall Jenner."
"Don't judge someone's attitude until you've felt their pain."
"Ask me a question about paparazzi, and I get so heated. And I feel so bad for young kids of celebrities. My nieces and nephews get yelled at, and I'm like, 'You are yelling at a two-year-old.'"
"Do your squats, eat your vegetables, wear red lipstick, [and] don't let boys be mean to you."
"You know what they say, dress your best when you go to bed because you don't know who you'll see in your dreams."
"I feel like I grew up too fast a long time ago."
Scott Disick Quotes
"I'd like to work as little as possible and make as many dollars possible."
"You know, I've realized that I'm probably just perfect and it's everybody else around me that's got issues."
"You know, they used to call me a social butterfly and I think I'm flying again."
"I never thought I'd be in a family that has more people than a small country."
"By no means do I want to be responsible when I'm actually so-called 'working'"
 "I'm a big star. I don't need to be dealing with you peasants."
"Once I get out of those doors, it's beast mode."
"Didn't you get married like both times after a couple months?"
"Aunty Kris, it's me, Todd Kraines."
"Oh look, it looks like the Kardashian sisters."
"Three kids in the plane? Like sh*t, that's a f*cking army."
"Thank God, you wouldn't have been able to afford it."
"Dream big, so even if you don't hit the top, you will make it somewhere decent."
"All the haters are just jealous, so they're trying to bring me down. I'm young, handsome, successful, wealthy. You could say I'm a role model — I'm the American dream!"
"I don't have to be walking around like some peasant. I'm royalty!"
"I may be a douche to some people, but I actually do run companies."
"Why don't we have the chemistry that Leonardo DiCaprio and Kate Winslet had in Titanic? I'll tell you one reason: Because we're not in a movie!"
"Are we going buck naked, or are we wearing like a bathing suit?"
"People who say real men don't wear pink obviously don't know any real men!"
"I didn't buy the piano to play it; I bought it because it looks nice."