9 Essentials For Great Summer Cocktails— Because You Probably Need A Cold Drink Right About Now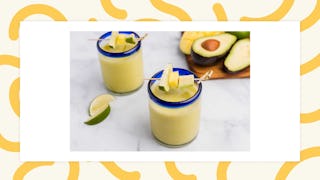 If you have kids, a home bar isn't just a luxury these days, it's an essential. Oh those kids. They are sweet and fun and rewarding, of course, but there are days (hours, minutes, seconds…) where they're also loud and messy and overly active, making you want to reach for at least one strong cocktail before the day is done. And the nice thing is, in your own house, happy hour can pretty much be any time you want it to be (just like coffee hour).
You don't need an entire bar's worth of fancy kitchen tools and gadgets to be able to make delicious mocktails and cocktails straight from your kitchen. A shaker or blender, some glassware that isn't decorated with your kid's favorite cartoon character, and a few other products can get you started.
So many summer drinks are also easier than they look. We are loving this Avocado Mango Margarita, courtesy of Love One Today, which only takes a handful of ingredients and 15 minutes to make. The recipe is non-alcoholic so the entire family can enjoy one, but hey, if you want to add a splash of tequila to your own serving, we won't tell. Check out the recipe below, and then scroll on to see what cocktail essentials will get you slinging and sipping your very own drink in no time.
Ingredients:
1 ripe, fresh avocado, halved, pitted and peeled
1 cup fresh mango, peeled, cubes
2 cups sparkling water, lime flavor or club soda
4 Tbsp. fresh-squeezed lime juice (about 2 limes)
2 tsp. agave nectar
1 cup ice cubes
Ice cubes to serve
Instructions:
Place avocado, mango, lime juice, agave nectar, and sparkling water in a blender in the order listed and blend until well combined.
Add ice cubes to the blender and blend again for less than a minute.
Garnish with a slice of avocado, mango and lime. Serve with ice.
Cocktail Bar Tools
Drink Glassware
Cocktail Mixes/Garnishes
For more delicious inspiration, check out our Home & Kitchen essentials.