You Can Buy Gummy Pickles That Actually Taste Like Pickles
by Leah Groth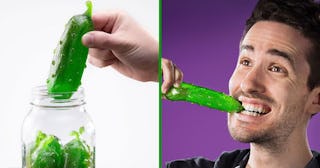 Vat 19
Attention all pickle lovers: Gummy pickles are an actual thing — and they look and taste (not feel!) like the real thing
Pickles are one of those foods that have amassed a cult-like status in the culinary world. The pickled cucumber has such a unique taste, you either obsessively love them, or simply avoid them at all costs. A company called Vat19, clearly catering to the needs of the pickle-obsessed from around the world, have created a gummy pickle, they refer to as a "good-sized gherkin made of gummy." "Previously, if you were a fan of brined cucumbers and delicious gummy goodness, snack-searching would put you in a real pickle," they explain on their website. "But with the Gummy Pickle, you get the best of both worlds."
While most of their gummies are "deliciously fruity," Vat19's gummy pickle is "deliciously realistic," they explain. The all-gummy quarter pound (yes, it's that big!) "vegetable" tastes just like a sour dill pickle. But instead of that cold, crunchy texture, it is chewy like a gummy. "While still slightly sweet, the predominantly pickle flavor and realistic appearance will trick your taste buds into thinking you plucked it right from the jar," continues the product description.
Just how authentic looking is this pickle? Well, it is green, glistening, and even includes pickle "warts." The company promises that it's the "approximate size" of an actual pickle, "complete with a stem and bumps you would find on the real dill."
"When you've got a craving for the unique taste of a pickle, you won't be satisfied with a simple slice or a spear; you want to dig your hand into the jar and pull out a whole one. That's why the Gummy Pickle is made with substantial size," they explain.
It can be yours for $5.99, sold on the brand's website. In case you are curious what it is made out of, according to the website it is a concoction of Corn syrup, Sugar, Water, Gelatin, Artificial & Natural Flavors, Pectin, Vegetable Oil, Soybean Oil, Carnauba Wax, FD&C Yellow 5 and Blue 1, Dillweed Oil, Lecithin from Soybeans, Coconut Oil, Palm Oil, and Rosemary Extract.
If you are a pickle lover and gummy pickles are, well, just too weird for you, there are so many other options — other than regular pickles, of course — to curb your craving. You could buy some dill pickle dip, pickle candy canes, or order a pickle sandwich, which is basically a regular sandwich with two slices of pickles instead of bread. At one point, Sonic even offered a pickle juice snow cone slushie, which might have gone a little too far.
Soon, pickle chips from Conagra Brands are going to be a thing. They won't be potato chips that are flavored like pickles — like Lays' insanely popular "Fried pickles with ranch chips" — they are actual "Vlasic vacuum-fried pickle chips that taste absolutely fantastic."
Enjoy your pickle-flavored fun.
This article was originally published on