Yes, You Need A Hairy-Chested Ugly Christmas Sweater This Year
by Cassandra Stone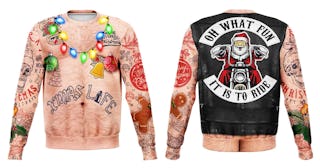 Etsy
Down to every last detail, these hairy, tattooed sweaters are everything you need this holiday season
The execution of ugly Christmas sweaters has been a party staple for, well, awhile. Just when you think you'd seen them all, and that there's no way you could possibly be enticed by yet another ugly Christmas sweater, these hairy, tattooed sweaters have shown up just in time to blow our minds before the holiday season begins.
RELATED: The Coziest Cashmere For Cool Guys Everywhere — Because Dads Deserve Nice Things, Too
These ugly sweaters are literally so startling in their accuracy, people might think you really showed up to the office shindig with chest hair on full display. They'll make your Aunt Irene do a double-take when she takes your coat (to put on the bed in the guest room, of course). And they're all available on Etsy.
This "Bad Santa" Tattooed Ugly Christmas Sweater is everything you didn't know you needed. Do you like your Santa with a hairy happy trail and a gingerbread man tattoo? Of course you do! Which is why you need this sweater. You should probably hurry up and order it before it kicks your ass all the way to the North Pole.
Perhaps you're more of a ride-or-die Christmas enthusiast, in which case, this Tattoed Ugly Christmas Sweater with more of a motorcycle vibe is for you. It has all the same festive tattoos as the first sweater, but with Bonus Butt Crack included there at the bottom, as you can see below. Buy one for grandma — she'll love it. What fun it is to ride, indeed.
Nothing says "I'm about that life" like this next ugly sweater — Christmas life, that is. Nothing illegal about that! This sweater features a completely shirtless torso full of hair, Snoopy lights, and Christmas cheer. There's truly no better way to let everyone know what you're about than through a well-placed stomach tat in Old English font.
Now this sweater is basically a two-for-one, because the print is actually in the style of a more traditional ugly holiday sweater, but with a little leather flare. It's a perfect gift for the Sons of Anarchy fan in your family (listen, we all know someone who felt they were part of the famous fictional motorcycle gang during the eight seasons it aired on FX). This "Sons of Santa" sweater is true perfection.
Not everyone is a fan of hairy, tattooed, barrel-chested men and that's fine. Some people prefer a more clean-cut, groomed look. Which is why this "Fit Santa" sweater exists — to satisfy the tastes of many a romance novel-loving person, as this sweater looks like it belongs on a Harlequin holiday romance titled Snowed In With Santa or something. Anyway, it's just a good look.
Each of these sweaters cost between $55-59, which is a fair price to pay for something that will keep the wearer — and everyone who bears witness to it — in the holiday spirit all year round. And if none of these are your jam, Disney has a whole new line of holiday garb for the more wholesome folks out there.
This article was originally published on