Harper Wilde Makes Bras (And Shopping For Them) More Comfortable
by Phuong Ireland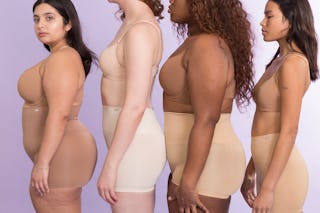 We can all agree that bras are a huge pain in the ass, right? The only thing worse than wearing an uncomfortable device that smushes and squeezes your boobs in all the wrong ways is shopping for the damn thing.
The giant floor-to-ceiling size zero supermodels, the saleswoman eyeing up your cup size, the overwhelming, over-sexified, overpriced options. Like, you're just looking for something that actually fits and keeps your boobs out of your armpits when you pick up the kids. You probably don't need a satin lace number with nipple cutouts or anything.
The two women who founded Harper Wilde knew there had to be an easier way. They surveyed hundreds of women to find out what we want, what we need, what we like, and — maybe even more importantly — what we hate. Then they got down to business and made it all happen.
Harper Wilde makes it so easy to find the right size, with a quiz that's simple, fast, and fun. And they simplify the overwhelming options with just five styles to choose from: The Base (everyday), The Boost (push-up), The Flex (strapless), The Move (sports bra), and The Bliss (bralette). Every one is insanely soft and comfortable, and has features that are exactly, finally, what we've been looking for. They're all perfect for everyday wear, lightly lined so your nipples don't show through, and available in barely-there nudes, with colors from beige to black.
Their two best-sellers, The Base and The Boost have front adjusting straps for easy adjustment without having to disconnect your shoulder sockets, and a bridge between the cups that makes them easy to fold while keeping their shape. And there's a hook on the back of each one that converts to a racerback in seconds. It's almost like they read our minds. Maybe because they actually asked what was on our minds. Imagine that.
Harper Wilde is all about simplicity and value. They've taken all the bullshit out of bras and bra shopping, and passed down the value. And they're empowering and educating women in an industry that's traditionally (and inexplicably) been run by men. Plus, they partner with Girls, Inc. to support mentorship for the next generation of girls from 6-18 years old, so they're literally and figuratively #LiftingUpTheLadies.
Harper Wilde has great bras and a super-easy shopping experience. If that doesn't make you perk up, nothing will.
Our mom experts only recommend picks they really love. We may earn a commission on purchases made through links from our site, but if we love it, we know you'll love it.
This article was originally published on