This Heated Blanket With A Foot Pocket Is The Definition Of Cozy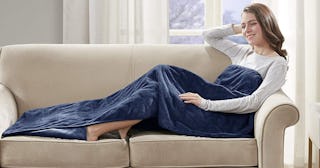 Amazon
I live in Los Angeles, so as soon as the weather dips below 70 degrees, I immediately bust out my turtleneck sweaters and portable heater (don't @ me). I love chilly weather because I love to bundle up and be cozy — it's my favorite thing about fall and winter (aside from all the seasonal bounty we get from the store, like acorn squash and Halloween candy). I'm always on the lookout for new throws and blankets I can cocoon myself in for several months, and I saw this heated blanket that has a FOOT POCKET. Genius! It completely eliminates my need to wear wool socks and Uggs every time my feet are exposed to the elements.
The 50 by 62" blanket is designed to cover you almost completely, and it's made from a microlight fabric that's machine-washable. It comes with three heat settings, and a pre-heating feature that ensures it's nice and toasty and ready for you when you wanna use it. The heat is distributed super evenly, so every inch of you will feel the heat (and safely). It comes with a controller and a 6-foot cord, so you won't have to stress about being *right* near an outlet.
The heated blanket comes in three different colors (gray, blue, white, and tan), but the gray one is the one currently on sale for $30.60 (it usually goes for $51.99)! Mug of tea, lit candle, and book of choice sold separately (sorry!).
This article was originally published on